Personal Profile
Full name Ronaldo de Assis Moreira ( Ronaldinho)
Date of birth March 21, 1980 (1980-03-21)
Place of birth Porto Alegre, Brazil
Height 1.81 m (5 ft 11+1?2 in)
Playing position Attacking midfielder, Left Winger
Some may argue that he was the best player and a Legend in the Frank Rijkaard Era, while others may complain that he caused no more than trouble and chaios in his last 2 seasons.
In my opinion, Ronaldinho was Barcelona's Icon, a true leader on the pitch at his prime, however his downfall was dramatic, and sadly a helping hand was not offered. Late night outs, parties, drinking, missed training sessions was common in Ronaldinho's last 2 seasons at Barca. The amount of criticism he began recieving was unbearable, after he gained the trust of the fans and the club he slowly started to lose it.
Ronaldinho lost his starting position to the likes of Giovani Dos Santos, Thierry Henry, and Iniesta and he was mostly left out of squad or benched. People may now wonder how this could all happen to a once FIFA World player of the year.
The top speaks of his last two seasons at the club. However, one should not forget what he gave in his first 3 seasons at the club:
Ronaldinho signed for FC Barcelona in 2003 from France giants Paris Saint-Germian. A tug of war between FCB and Manchester United ended as the the Brazilian signs a five-year £21m deal.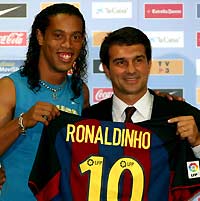 He made his team debut in a friendly against A.C. Milan at RFK Stadium in Washington, D.C, scoring one goal in a 2-0 victory. After suffering from injury during the first half of the campaign, he returned and helped lead Barcelona to a second-place league finish.
Ronaldinho won his first league title in 2004-05, and was named FIFA World Player of the Year on December 20, 2004. On March 8, 2005, Barcelona were eliminated from the Champions League by Chelsea F.C in the first knockout round, with Ronaldinho scoring both goals in a 4-2 loss.
By the end of the 2004-05 season, Ronaldinho had started to accumulate a host of personal awards. He won the inaugural FIFPro World Player of the Year in September 2005, in addition to being included in the FIFPro World XI. He was named as both the European Footballer of the Year . He was again named FIFA World Player of the Year with 956 points, more than triple the amount (306) of runner-up Frank Lampard.
On November 19, 2005, Ronaldinho scored twice as Barcelona defeated Real Madrid 3-0 on the road in the first leg of the El Clásico. After he sealed the match with his second goal, he received a standing ovation from the Madrid fans. He was chosen for the UEFA Team of 2005 for the third consecutive year in January 2006.
He won the hearts of all the Barcelona Fans with his amazing technique, and entertaining ability. Ronaldinho scored mouth-watering goals throughout his career in the club. Examples are his bicycle-kick goal against Villareal, and against Atletico Madrid, or his goal against his current club AC Milan in the Champions League. He also scored an amazing long distance goal against Sevilla after an individual effort. Some of his best goals also include free-kicks which was his specialty at Barcelona.
Statistics
First match: FC Barcelona - Athletic Bilbao 1-0 (30-08-2003)
Last match: FC Barcelona - Villarreal CF 2-3 (09-03-2008)
207 matches - 94 goals (La Liga: 145/70, European Cups: 42/18 (UEFA Cup:7/4, UEFA Champions League:35/14), Copa del Rey: 13/4, Supercopa de España: 4/1, UEFA Super Cup: 1/0, FIFA Club World Cup: 2/1.
Honours (Club and Individual)
Spanish Liga: 2005, 2006
Supercopa de España: 2005, 2006
UEFA Champions League: 2006
FIFA Club World Cup 2006: Runners-up
EFE Trophy: Best Ibero-American Player in La Liga: 2004
FIFA World Player of the Year: 2004, 2005
UEFA Club Best Forward: 2004-05
European Footballer of the Year: 2005
FIFPro World Player of the Year 2005, 2006
UEFA Club Footballer of the Year: 2005-06
UEFA Team of the Year: 2004, 2005, 2006
Best foreign player in La Liga: 2004, 2006
FIFA Club World Cup Bronze Ball Award: 2006
FIFPro World XI: 2005, 2006, 2007
Ronaldinho played his last match in a FC Barcelona Shirt against Villareal CF on 09-03-2008, he did'nt have a chance to say goodbye to the fans as he was reported to have picked up an injury after that match which kept him out until the end of the season. ( Some believe this injury was made up as relations between the player and the club hit an all time low, and it was decided he should be left out)
Surprizingly after he left the club to AC Milan, Ronaldinho wrote a farewell letter to the fans, staff, and ex-teammates at FC Barcelona thanking them for everything: (translated from Spanish to English)
"First of all I would like to express my gratitude to Barcelona's fans. At every time I felt their affection. I was very happy in Barcelona because the people always transmitted wonderful feelings. I have felt accompanied during the whole journey, and this sensation gave me strength always. I enjoyed playing football with Barça and I enjoyed pleasing the fans. I have felt close to the people of F.C. Barcelona which showed their affection at all times. I remain with the illusion of one day being able to say goodbye from the Camp Nou.

I'm going to a great Club, but with a certain sadness to have to leave the places where I was happy, in which I experienced triumphs, but especially emotions. Us Brazilians play football also to make others happy.
This was one of my objectives and I am satisfied I achieved that.

I'd like to thank the support I have received from all the players I played with. It was an honor to play alongside footballers of such a high professional quality, but especially human quality. Many of them were not just team mates, but friends. We were a great group and everyone gave their contribution to the success. No player can win anything by himself. I have to thank my team mates and the Club for the individual awards which brought me here, I have a special memory of the Golden Ball and the FIFA World Player. Thanks because here I lived some of the happiest moments of my life.

I don't want to forget the coaches, the masseurs, the doctors, all the people involved at the club; they are a part of the triumph too. I extend my gratitude also to the managers who supported me and the press which accompanied me over the years. They will all remain indelible memories of an exceptional period.

I've received a lot. I was happy in Barcelona and with Barcelona. I will keep all of this in my heart with great affection. Football is a game, a party, it's a sport to enjoy and to give joy. You have to play football with a smile. That is its significance for me. Thank you for having smiled with me."

- Ronaldinho
www.barcaforum.com